February 17, 2023
Dear Mid Atlantic Nutrition Conference Supporters,
Due to many unfortunate events, from our cancellation of the MANC program several years ago based on the pandemic restrictions and the inability to organize a successful program for several years since, it is my sad responsibility to announce that this year's Mid Atlantic Nutrition Conference scheduled for March 27-28 in Gettysburg, PA is cancelled. The Mid Atlantic Nutrition Conference has had a long history of excellence over its 60-year existence and it saddens me to announce that it will no longer continue. We would like especially to thank Evonik and all others who have sponsored this event and allowed us to put it on for so long.
Thanks to all of you that have participated in past years and I wish you all the best for the future.
Marty Adams, Maryland Feed Industry Council Vice President
Chris Olinger, Maryland Feed Industry Council Treasurer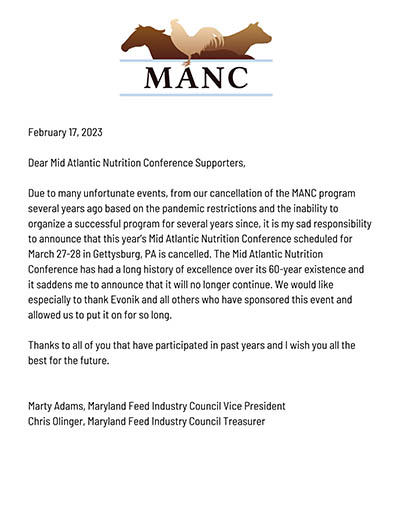 Download the MANC Cancellation letter here.