The Department of Animal and Avian Sciences (ANSC) Campus Farm is nestled in the middle of the College Park Campus adjacent to the ANSC building and the Comcast Center. The ANSC Campus Farm is considered to be the "jewel" of the department as it provides essential hands-on learning opportunities for our students and it serves as a showcase for the Animal Sciences discipline to all campus visitors.
Student Experiences on the Farm
Students become shepherds in a sheep management course—aka "Lamb Watch"—in the College of Agriculture and Natural Resources. Caring for our Campus Farm's flock and raising more than two dozen lambs each spring, these dedicated students work around the clock to watch over pregnant ewes and assist births at any hour.
Farm Facilities
The Dairy Barn is actually our multi-species, multi-use barn. It is used to house pigs, sheep, quarantined horses, beef steers, and, of course, dairy cattle. There are tie-stalls with a milking system that allows lactating dairy cattle brought in from our off-campus Dairy in Clarksville, MD to be used during hands-on milking laboratories. The barn features an outdoor livestock ring that serves to house and handle livestock. The livestock ring is also where pigs, lambs, dairy heifers, and beef steers are shown on Ag Day in front of thousands of visitors to our campus.
The Horse Barn serves as the major hub for our equine-related labs. We maintain a herd of 5-8 horses that have all been generously donated to the University. In addition to the teaching labs, the horses are ridden by members of the Maryland Equestrian Club (MEC). As part of the club's educational program, they assist with the daily feeding and care of the horses. The Horse Barn features 8 stalls, rooms for feed, hay, and equipment storage, a tack room, and a wash stall. Horses are turned out into paddocks when not used for teaching or riding. Horses are often taken on trail rides at the nearby Acredale Community Park.
The Sheep Barn is bustling with activity during the school year. Here you will find Certified Scrapie Free ewes and lambs grazing and frolicking during the spring and rams and ewes together in the fall. Students spend a lot of time in the barn during "lamb watch" as part of our Small Animal Parturition class which is on hand to assist ewes during lambing if necessary.
The Chicken Coop is a small poultry house used to house chickens for our Introduction to Animal Science and Poultry Management labs. It has also been used for poultry behavior studies by our research faculty.
The ANSC Campus Farm office is centrally located on the ANSC Campus Farm, just a stone's throw from the sheep and horse barns. You may hear it fondly referred to as the "the Shack" by students and faculty. The building houses the office of the ANSC Campus Farm Manager as well as providing meeting, break room, and restroom facilities.
General Information
The ANSC Campus Farm is used primarily for teaching in 11 ANSC classes, 3 classes in the Institute of Applied Agriculture, and 3 student organizations. Throughout the year, the ANSC Campus Farm is home to horses, sheep, and dairy cows, with pigs, chickens, beef steers, and dairy heifers being temporary occupants. The farm features 3 main barns, a poultry house, two outdoor teaching arenas, an equipment/bedding/tractor storage shed, and an office building. The ANSC Campus Farm Manager along with the "Farm Crew" work diligently to keep the animals healthy, ensure the teaching laboratories are running smoothly, and to keep the facility in tip top shape for our many visitors. The Farm Crew is a group of paid undergraduate students who assist the ANSC Campus Farm Manager with the day-to-day operations while gaining valuable practical farm experience to make them competitive in today's job market.
The Campus Farm is also home to our annual Ag Day livestock fitting and showmanship show. Always held on the last Saturday in April, Ag Day is one of the best ways for students to gain hands-on experience with a variety of livestock species right here on campus!
The ANSC Campus Farm Oversight Committee meets regularly to address farm issues, discuss policy, plan future renovations, and provide guidance to the ANSC Campus Farm Manager. The committee is made up of 3 faculty, 1 staff member, 1 undergraduate student, and the ANSC Campus Farm Manager.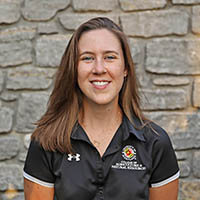 My experience with livestock started with horses. I've been riding horses since I was young and worked with therapeutic riding horses when I was in high school. Originally when I went to college at Virginia Tech, I planned to study Chemistry, but my desire to work with animals led me to change majors to Animal and Poultry Sciences. Whenever I was home from college, I worked at George Washington's Mount Vernon with their Livestock division and gained experience with a wider variety of livestock including mules, pigs, sheep, poultry, and cattle. After undergrad, I went to the University of Missouri to complete a Masters degree in Animal Sciences focusing in beef cattle reproduction. From 2018-2022, I taught as the Animal and Avian Sciences Lab Course Coordinator at the University of Maryland teaching a variety of lab courses such as Principles of Animal Sciences Lab and Physiology of Mammalian Reproduction Lab. As farm manager, I enjoy applying my knowledge of Animal Sciences and continuing teaching with the Sheep Management lab.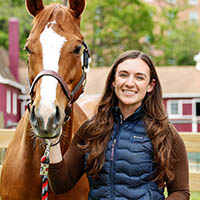 I started working with animals through 4-H, and fell in love with all the farm animals but especially horses! Riding has been a lifelong passion of mine. I started to ride at a young age, and continued through my teenage years and during my time in college. Attending Florida State University, I obtained a degree in Biology while also riding on the FSU dressage and eventing teams. I've held multiple working student positions, which greatly expanded my knowledge of horsemanship and riding. I gained my first professional experience in veterinary hospitals, starting with small animals and eventually equine specific. After that, I took the plunge and began managing horse farms where I was fortunate enough to learn the ins and outs of the industry. My first role as a barn manager was on a thoroughbred farm with over 150+ horses, whereas I've also gained experience on smaller, upper level eventing programs. Horses are a lifelong passion of mine, and I look forward to my days because I know there is always something new to learn!
Ag Worker: Gracie Siegrist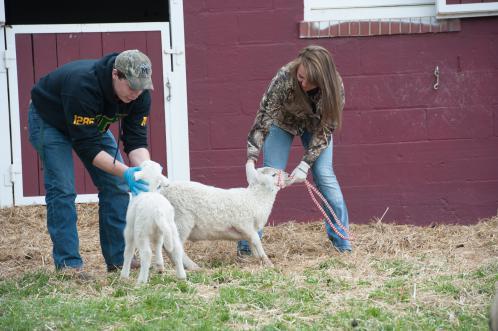 The ANSC Campus Farm utilizes two outdoor sand footing teaching arenas. The smaller ring, known as the "livestock ring", is used for housing livestock, teaching laboratories, and during livestock shows. The larger ring, called the "riding ring", is used primarily during equine-related teaching laboratories and for riding lessons and in-house shows organized by the Maryland Equestrian Club.
The Campus Farm is open to visitors during normal business hours. Tours of the ANSC Campus Farm can be arranged through our ANSC Campus Farm Manager and through our ANSC Undergraduate Office.
Directions:
From 193 (University Boulevard) or Metzerott Road enter the University of Maryland campus via Paint Branch Drive. At the first stop sign turn right onto Regents Drive. At the next stop sign turn left to continue on Regents Drive. After 0.1 miles the Campus Farm will be on your right.
From Route 1 (Baltimore Ave) coming from the south turn left onto Campus Drive. At the "M" traffic circle take the first right onto Regents Drive. Continue for 0.3 miles. The Campus Farm will be on your left.